A police officer testified Tuesday (April 18) that she feared for her life during her 2015 encounter with Myles Gray but revealed there was no plan and few if any de-escalation tactics utilized during the violent multi-officer interaction that left Gray dead.
Const. Hardeep Sahota told a coroner's inquest she was called to the area of Southeast Marine Drive and Boundary Road, along the border between Burnaby and Vancouver, on Aug. 13, 2015 for a reported disturbance.
Two neighbourhood residents called 911 that afternoon after 33-year-old Gray approached a woman in her yard, yanked a garden hose from her hands and sprayed her down with it. The woman, Songur Reza, told the jury through a translator that Gray also called her "hot," which she took to be a comment on her looks. Reza, her son and a neighbourhood friend each testified that Gray didn't appear to be in his right mind and that they believed at the time he may be intoxicated or on drugs.
Gray's sister testified Monday that her older brother had bipolar disorder, but that he hadn't had a psychotic episode in about 15 years.
Sahota told the jury that when she spotted Gray a short distance away from the source of the 911 call she saw him talking to himself and waving his hands in the air. She pulled her police van to the side of the road and initiated a conversation with him to assess the situation.
Sahota said she asked Gray what he was up to and if he was okay and that he responded that he was fine. She said Gray became frustrated as she questioned him further and that he clenched his fists and began to approach her while staring fiercely into her eyes.
Frightened, Sahota said she returned into her vehicle, but that Gray followed her and started using his hands to try and force down or break her driver side window.
"At that point I feared for my life," testified Sahota, who had been with the Vancouver Police Department for six years at the time. She radioed in for help and then recalled Gray saying something to the effect of, "You better be calling for backup."
Sahota said it didn't cross her mind in the moment that mental health might be a factor, and told the jury Tuesday that she couldn't remember if she had ever received specialized training on how to respond to incidents where mental illness may be at play.
While waiting for other officers to arrive, Sahota said she watched Gray try to flag down multiple vehicles – telling one driver "Help me, help me, this officer is trying to assault me" – before disappearing up a set up steps into a wooded area next to a residence at 8375 Joffre Avenue. Sahota said she got out of her vehicle at that point and walked until she could see Gray standing at the top of the steps.
When he spotted her, Sahota said Gray put his arms into a kind of "Incredible Hulk" stance and yelled "Welcome to the jungle!"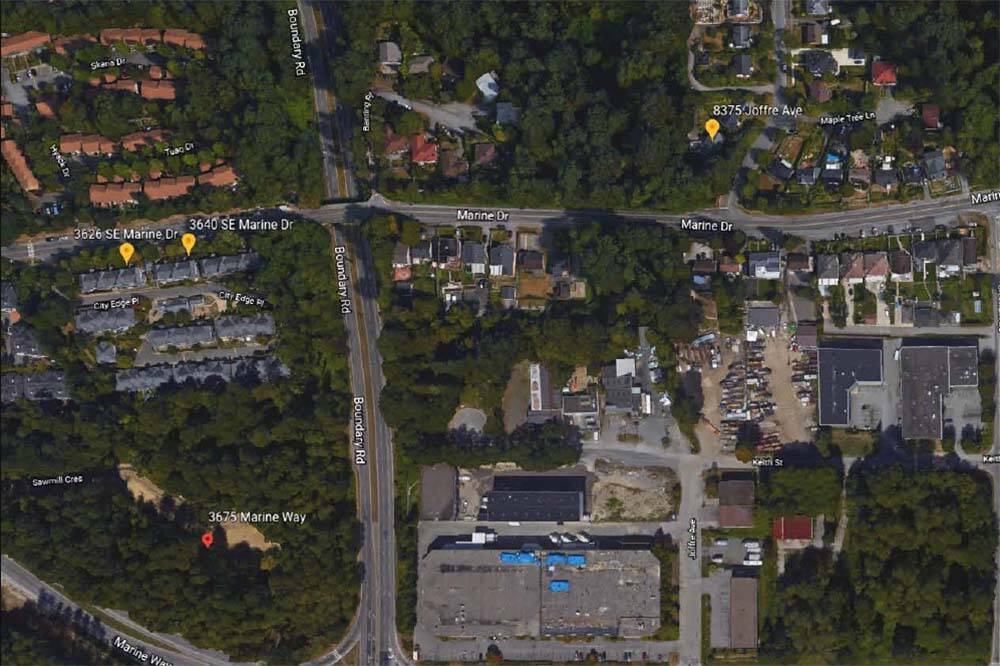 Again frightened, she returned to her vehicle until two plain clothes cover officers – constables Eric Birzneck and Kory Folkestad – arrived. As soon as they were on scene, Sahota said they jumped into action. Sahota told the new officers Gray was aggressive and that he was going to fight and then the three headed up the steps after him.
"There was no plan," Sahota testified.
When the officers reached the top of the steps, Sahota said they found Gray standing near the front door of someone's home. She said Birzneck told Gray to get down on the ground, but that none of the officers tried to communicate with him further or explain that he was under arrest before Birzneck shot Gray in the face with pepper spray.
Gray put his hands up to his face and bent over forwards, according to Sahota, giving her and Folkestad an opportunity to get him in handcuffs. But Sahota said she could only get a cuff on one of Gray's wrists before he broke free of the officers.
"He started yelling and shouting very loudly and ran a couple feet away from us. He ended up swinging his right hand, which he had the handcuff on, in the air and yelling 'Ahhhhhhhh!'"
Sahota said Folkestad attempted to grab Gray, but that he punched the officer in the face. Sahota and Birzneck then pulled out their batons and began striking Gray with them. Birzneck bear-hugged Gray and took him to the ground on his back, where the three officers were able to get him under control.
More officers arrived and someone used a hobble – a nylon restraint strap – to secure Gray's ankles together. Sahota said she was holding onto the hobble but Gray continued to move his legs around, so a fellow officer began striking Gray. The officer accidentally hit Sahota's hands with one of his blows and she said the "excruciating pain" of it forced her to then leave the scene to seek medical attention.
Soon after, Gray went into cardiac arrest and died. An autopsy showed he was left with a broken nose, sternum and eye socket, a dislocated jaw, a ruptured testicle and a fractured voice box.
Sahota claimed Tuesday she couldn't recall which officers had delivered the blows to cause those injuries.
Questioned by multiple jurors to as whether the thought she could have done anything differently in the situation in hindsight or if mental health training could have helped, Sahota said no.
More details around Gray's final moments of life are expected throughout the remainder of the week, with a long lineup of police officers scheduled to testify. They are the only people who witnessed his death.
The intention of a coroner's inquest is not to lay blame, but to determine the circumstances surrounding someone's death and make recommendations on how to prevent future similar ones from occurring. The BC Prosecution Service declined to press criminal charges against any of the involved police officers, saying that there wasn't enough evidence to prove beyond a reasonable doubt that they committed offences.
---
@janeskrypnek
jane.skrypnek@blackpress.ca
Like us on Facebook and follow us on Twitter.