When it comes to home renovation projects, window replacement is one of the most important and effective investments you can make. Not only do new, high quality windows improve your home's energy efficiency, they can also have a dramatic effect on your home's resale value, giving you a fantastic return on your investment (ROI). The ROI for window replacement is often around 70 per cent!
5 benefits of replacing your windows
Energy Efficiency: Modern windows with better insulation and technologies such as low-e coatings and double glazing can help reduce heating and cooling costs. Homeowners may choose to replace windows to reduce heating and cooling costs, or to be more environmentally friendly.
Security: Upgrading to windows with stronger frames and improved locking mechanisms can improve home security and provide peace of mind.
Noise Reduction: Modern windows can help reduce the intrusion of outside noise — particularly helpful for those who live in noisy urban areas or prefer a quieter indoor environment.
Improved ventilation and natural light: Choosing a different window style, such as casement or awning windows, can improve ventilation by letting in more air. Different window sizes and styles can also increase the amount of natural light that enters a room, creating a brighter and more inviting living space.
Compliance with building codes and regulations: When renovating or making structural changes, homeowners may need to replace windows to meet current building codes and safety regulations. Newer windows are often easier to maintain as well!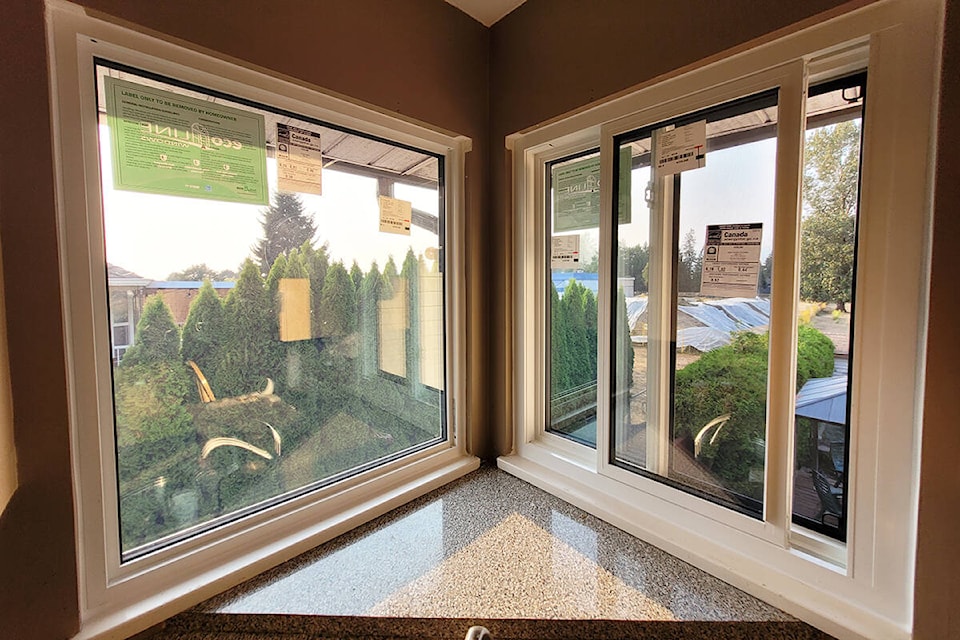 To enjoy these benefits, two things are important: a quality product, and proper window installation. But how do you ensure you're hiring the best window installer? We've created this guide to help you find reliable window companies on Central Vancouver Island and analyze your potential installer before signing a replacement contract.
1. Ask friends for referrals
Nothing beats personal experience from people you trust. All you have to do is ask your friends and neighbours for local recommendations. You'll get deeper insights into how your interaction and experience with a potential window installation company are likely to go.
Hiring a local window contractor will also save you from worrying about manufacturing and installation delays. Since they are local, they can make the most of available time and keep your project on schedule.
2. Check your installer's license and insurance
Hiring a window company that provides insurance to their in-house installers is crucial in the event of issues. Your window installer's insurance should include liability coverage, workers' compensation and property damage insurance.
Similarly, hiring a company with a business license from the municipal government is important. Building permits are also required for any window replacement where the existing opening is expanded, or the structure of the wall is altered. Replacing a window with another of the same size may not require a building permit, but ask your installer to be sure.
Local building permits are important, especially for egress windows, and your installer should be able to explain what's required. Ecoline Windows follows CSA guidelines, another sign of a trusted window installer.
3. Check reference history
Ask the company to provide references and contact those past clients to learn about their experience with the installation company. A strong reference list will reflect the services' quality and how a business handles any problems.
You can also check online reviews to see what other homeowners say about the company you are about to hire. Investigate reviews on Google, Better Business Bureau, Homestars, TrustedPros, Facebook and other reliable sites to learn more about a company's reputation.
4. Look for companies that offer energy-efficient windows
Make sure the window installation business you are considering hiring has a good variety of replacement windows. Ask for windows with ENERGY STAR ratings to maintain the thermal comfort of your house without incurring high energy costs.
Also, only deal with companies that offer windows with an NFRC label, which helps you compare between energy-efficient windows. These windows offer a low U-factor (how well a window keeps heat from escaping from the inside of a room), low SHGC (how well a window resists unwanted heat gain), and high VT (how well a window lights your home with daylight).
5. Get quotes from various companies
The cost of window installation differs based on the company you choose, the size and style of windows you prefer, and the features and materials you want.
Therefore, it is better to spend some time and get quotes from two to three companies. This will enable you to compare costs and learn more about what each one has to offer before making a hiring decision.
6. Ensure your installer qualifies for government rebates
Ensure that the company offers quality windows that are eligible for the maximum Greener Homes Grant. This is an initiative by the Canadian government to promote the energy efficiency of our homes.
According to this initiative, around 700,000 in grants and up to $5000 per home have been allocated, encouraging Canadians to make energy-efficient home renovations to their current residences. The British Columbia provincial government offers homeowners thousands of dollars in rebates for completing residential renovation projects that reduce home energy costs, including up to $2,000 for replacement windows and doors.
Low-income families may obtain CleanBC Income rebates for windows and doors that compensate for 60 to 95 per cent of renovation costs, up to a value of $9,500. Other renovations are also covered by these rebates.
Takeaway
It's vital to take your time when selecting a window installer. Before making a choice, seek referrals, check reviews, ensure that the windows are energy efficient and check the prices of several installers. Paying attention to these pointers can help you get the best windows and installation for your home.
Ecoline Windows serves Port Alberni and the surrounding areas. For more information, call (778) 864-5890.